We're back!
A quick update on the goings on and what's upcoming 🙌
Hey everyone!
It's been a while, but I come bearing good news— tiptoptypetips is back!
There's a lot that's been going on, and it's now just a while longer before we're ready to go live! So, here's a quick update (for the tttt OGs ✊) on what you can expect as part of the new and improved tttt 2.0!
---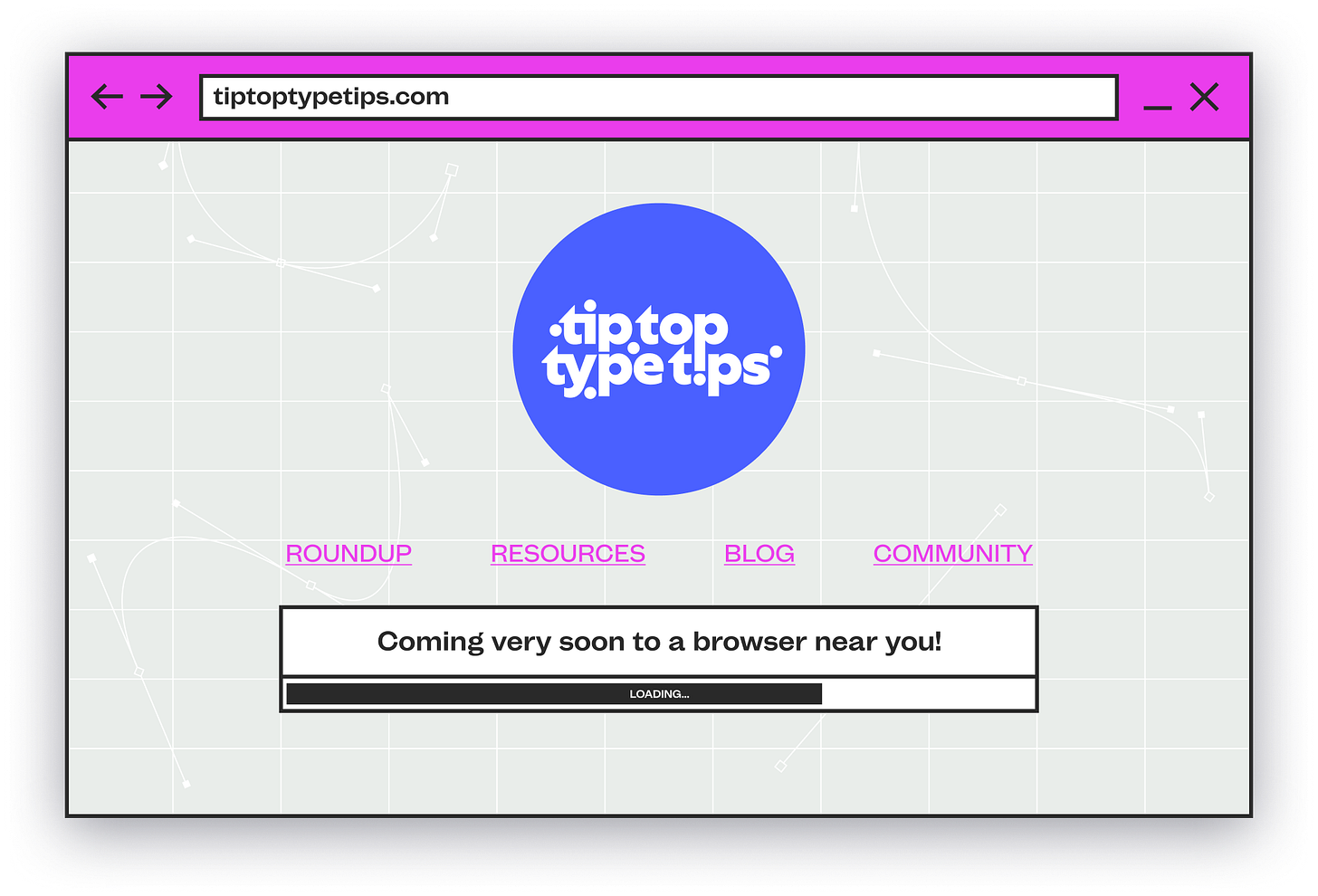 tiptoptypetips 2.0
We're growing from our newsletter origin story into 4 broad sections—
The Roundup: This very newsletter. Nothing much changing here in terms of content— 3 things related to typography— stories, fonts, lists and insights. So, what is changing?

Substack will serve as our new home. You can find all our past issues here to read at any time. This also means there's a chance Gmail moves us into your 'promotions' tab. To prevent this from happening, please whitelist us. You can do that by—

Replying to this email. Maybe tell me what's cooking for lunch! Or just say hi :)

Add tiptoptypetips to your Contact list or Mark this email as Important

You'll now find The Roundup in your inbox every fortnight, as supposed to every week. This will give me more time to curate the best in typography for you, every issue.

Resources & Guides: As the name suggests, a collection of guides and typographic resources specially curated to help you through the often mystifying concepts of type and design. While I'm making finishing touches, if you'd like to make requests for any specific resources, please do reply to this mail.

The Blog: A blog about type— trends, articles, and content written and curated for emerging designers and experts, alike. To get a sense of what we'll be writing and gushing about, give this a read.
And finally, the tttt Community: A space to discuss, ask, collaborate and learn typography with other type enthusiasts, designers and typographers, from around the world.
---
That's it for now, folks.
I will say though— keep your eyes peeled, be sure to be subscribed, and please do also give tttt a follow on Twitter! I'll share quicker updates and sneak peeks there.
Happy Sunday!
See you on the other side, very soon!
🌈 Sneha.